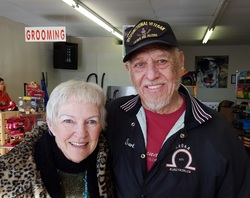 While house-sitting for her daughter in "the wintry wilds" of Colorado, a chance meeting at a small, mountain town cafe evolves into a connection to Captain Michael D. Chwan! See What Dana's Been Up To for links to articles about the amazing story of Dana's "Colorado Christmas Miracle".

Life IS a wonder, isn't it?
---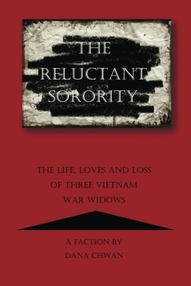 An excerpt from "The Reluctant Sorority"...

"...One particular day, they get word that a large flight of many aircraft is headed their way. It is expected that the bridge is the target again, and the guns are ready, supplied and directed by the Russians, some of whom actually manned the guns that shot down American planes. Tranh has been put in charge of a detail of workers to move the shells into place for the coming onslaught. He is spurred to action by the loud voice of a young and handsome Russian officer whom he has come to respect and admire.

The date is September 30, 1965. The Ninh Binh Bridge is the target for America's bombers, coming from several different bases in Thailand and South Vietnam..."
​​
Where fact ends and fiction begins is seamlessly interwoven to tell the rest of the story....

Author Dana Chwan is the surviving widow of an American serviceman who lost his life in the Vietnam war.
She has been an outspoken advocate for the families of veterans and spokesperson for the POW/MIA issues that still smolder from a tragic chapter in American history.
---
For all you "techies" out there..."The Reluctant Sorority" is available as an e-book. Click HERE to order yours today!